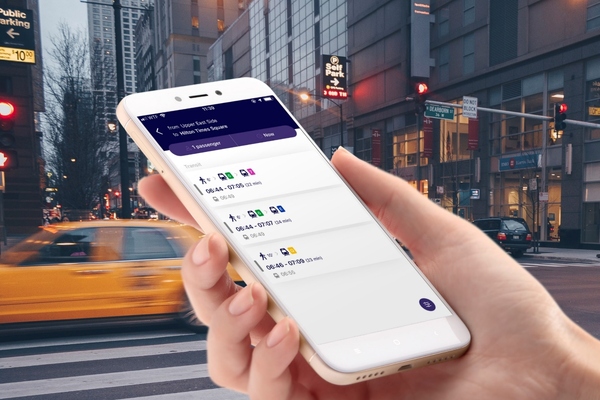 The development of Mobility as a Service (MaaS) has taken a significant step forward in the Portuguese capital Lisbon and in the neighbouring city of Évora. In the two cities, local software developer Ubirider has come together in collaboration with payment provider Mastercard and the transport operators to create a MaaS platform for the two cities.
Ubirider has created the MaaS platform, Pick, which provides digital mobility solutions that combine information, booking, payment and ticketing. In cooperation with Mastercard, Pick simplifies users' access and payments for mobility services. The MaaS platform includes the Pick Hub mobile app, the cloud software and the web portal. It gives users the ability to move around the cities more easily by giving them access to integrated, multimodal transport. At the same time, transport operators will benefit from increased efficiency, cost reductions and an improved quality of service. The data collected on mobility trends will also enable local authorities to adjust the network's service offerings to meet people's and companies' needs, while improving the service in terms of efficiency and sustainability.
With this partnership, the Portuguese cities aim to significantly improve the user experience and to gather valuable data on travel needs and mobility trends, which will support transport operators in managing and integrating several services, platforms and operation data into one single application. In the app, users have access to the schedules and other services offered by operators, while operators will be able to communicate updated information to users. The platform will also accept payments (via credit/debit cards or digital wallets) and issue tickets through different channels (such as ticket offices, vending machines, mobile apps, website), as well as issue invoices and receipts.
MaaS platforms, such as Pick, foster intermodality among city dwellers, allowing them to plan their door-to-door trips, using the best combination of travel modes. They also enable users to pay for their journey in a single aggregated payment, reducing the need to spend precious time to buy different tickets. At the same time, the app ensures direct and immediate payment distribution to transport operators, reducing their administrative costs. Moreover, Pick also includes contactless payment, such as Tap-on-Phone, a more secure, faster and more affordable software technology that transforms any smartphone into a simple payment terminal. Mastercard and Ubirider piloted Tap-on-Phone technology in the Pick Driver app, which is the traffic app for bus drivers in Évora, in July 2022, which facilitated the acceptance of contactless payment on local public buses.
The Pick platform has already been adopted by Lisbon's suburban rail operator, Fertagus, which reported that over 30% of ticket sales were undertaken using the app in the first 10 months. Ubirider and Mastercard have been working together for some time in Portugal and this partnership for implementing MaaS in Lisbon and Évora is the result of the successful cooperation between the two organisations.