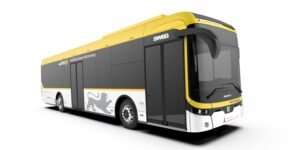 The German public transport company Südwestdeutsche Landesverkehrs GmbH (SWEG), which operates primarily in the southwest of Germany, has ordered up to 25 new electric buses from Dutch electric bus manufacturer Ebusco. The buses are the Ebusco 2.2 model in its 12-metre version, which will be put into operation in the region of Baden-Württemberg.
SWEG is well-established in the public transport sector and, along with its subsidiaries, boasts an extensive fleet of approximately 470 buses. The addition of these 25 purely electric buses from Ebusco marks a significant step towards sustainable mobility for the company. SWEG has not yet revealed the specific locations where the new buses will be deployed, but have confirmed that they are expected to cover around 60,000 km annually.
As the world continues to address the challenges of climate change, the adoption of electric buses is gaining traction globally and public-private relationships such as these set a positive example for other public transport companies seeking to make similar strides towards a more eco-friendly future.